You have found the internet home of
Jangling Sparrows
and singer/songwriter
Paul Edelman
from Asheville, NC.
"We think this is one of the best Americana bands we have heard this year, and would love to see their live performance" – No Depression

Extras 'n Outtakes
Become an active participant in my creative process by supporting my work on Patreon
From the most recent Acoustic Asheville sessions recorded live on the Grey Eagle stage. Paul performing "Bootstraps" from his upcoming 2020 LP release.
Jangling Sparrows perform Burnin A Hole from 140 Nickels, Live at The Grey Eagle
Jangling Sparrows New Single: The Feather And The Well
Streaming Here

Bootstraps and Other American Fables Out Now!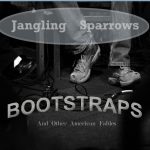 Preview the single,
Estuaries
.
IndiePulse says of it, ""Estuaries" comes from a place in the human heart that many are afraid to reveal…his music is inclusive and inspires the spirit, yes I am a big fan and you should be too."
CD CATALOG
LISTEN / BUY
North American and Susquehanna

2005 Release

… the most stunningly beautiful piece of 'cosmic american music' this reviewer has come across since the golden times of Uncle Tupelo …
Next Show
No shows booked at the moment.